The 2022 GEON Performance Solutions Environmental, Social and Governance (ESG) Report illustrates how we bring our sustainability strategy to life for our associates, customers and community.
In 2022 we sought to better understand the impacts of our products and services through their life cycles. This helped us close key resource loops, advance sustainable products and accelerate our top-line growth. We also shaped thriving communities by paying it forward in the communities in which we operate. Finally, we adopted a problem-solving teamwork mindset to improve the efficiency and sustainability of our operations while growing our business and improving safety. GEON's 2022 sustainability report contained many highlights and below we have included a roundup of our success metrics.
ENVIRONMENTAL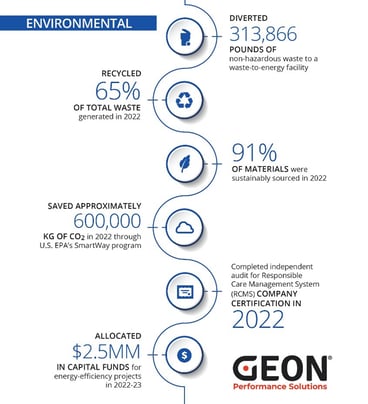 The environmental pillar of the ESG strategy uses the approach of optimizing and advancing operational excellence. We measure our success in the areas of waste, energy intensity and safe work environment.
One example of how we refined our waste recycling process took place at our Seabrook, Texas site. Seabrook's waste intensity went from 7.4 million pounds in 2021 to 3.1 million pounds in 2022. We achieved a 58% decrease in waste intensity by segregating recyclable materials and working with waste vendors to find new sources to recycle.
Additional Milestones Include:
Recycled 65% of total waste generated in 2022
Allocated $2.5 Million in capital funds for energy-efficiency projects in 2022-23
91% of materials were sustainably sourced in 2022
Diverted 313,866 pounds of non-hazardous waste to a waste-to-energy facility
Saved approximately 600,000 KG of CO2 in 2022 through the U.S. EPAs SmartWay program

Completed independent audit for Responsible Care Management System (RCMS) company certification in 2022
SOCIAL
We believe it is essential to continuously work on creating a company culture that is inclusive and enables our associates to bring their diverse viewpoints and unique talents to respond to company priorities. We do this by creating a learning and evolving organization where every associate feels engaged and empowered to take ownership of their career growth. In 2022, we launched a Maintenance Apprenticeship Program at our Avon Lake, Ohio, site that is designed to meet the needs of both our associates and our manufacturing business.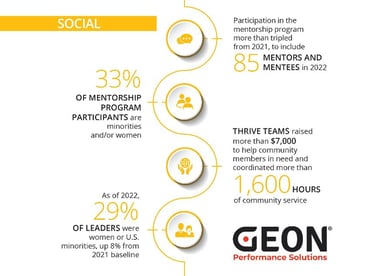 The apprenticeship program is based on a learn-and-earn model that combines on-the-job training at GEON with technical education at a local community college. Apprentices receive 144 hours of classroom instruction through Lorain Community College and 2,000 hours of training at our Avon Lake site. Program participants work as utility resource associates, a position that enables them to learn new skills across the maintenance operation while providing flexible work hours for classroom training. We are in the process of launching this program at our Terre Haute, Indiana site as well.
Key Milestones for the Social Pillar Include:
Participation in the mentorship program more than tripled from 2021, to include 85 mentors and mentees in 2022
33% of mentorship program participants are minorities and/or women
91% of suppliers have accepted GEON's Supplier Code of Conduct or proposed their own Code of Conduct
Employee-led Thrive Teams coordinated more than 1,600 hours of community service and raised more than $7,000 to help community members in need
As of 2022, 29% of leaders were women or U.S. minorities, up 8% from 2021 baseline
GOVERNANCE
To lead with purpose means to do business the right way. Our values of win together, create opportunities and pay it forward reflect the behaviors that define our shared culture. To ensure that we're delivering value for our stakeholders we engage with them regularly. Their viewpoints help us identify our sustainability focus areas and goals. It also gives us precious insight into the issues and challenges that are top-of-mind for them.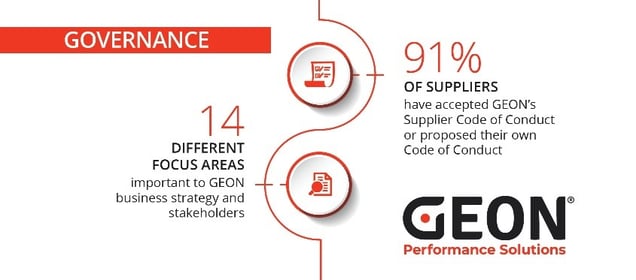 Governance Highlights:
91% of suppliers have accepted GEON's Code of Conduct or proposed their own
14 focus areas important to GEON business strategy and stakeholders
The bar is set high for 2023 as associates work towards GEON Vision 2025 goals. They are focused on driving long-term growth and delivering value by serving all our stakeholders and acting in ways that create a more sustainable future.
Download the infographic below and Read the complete 2022 GEON ESG Report here.